Snowflake Pewter Ornament
USA Made Hanging Pewter & Swarovski Suncatcher
JUST FIVE LEFT!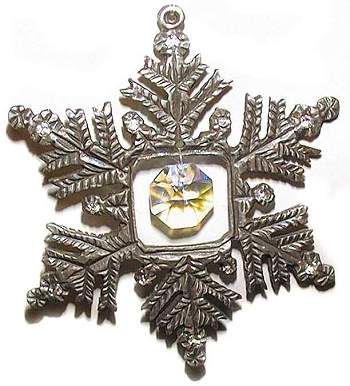 2 7/8" H by 2 7/8" W
Hanging Pewter Ornaments
Fine US Pewter and Swarovski Crystal Suncatcher

lacy Snowflake
This crystal studded snowflake has a delicate lacy look. There are six segments each with 3 Clear Swarovski faceted crystals, another Swarovski faceted AB crystal dangling in the center radiates lovely rainbows. The scene is the same on both sides. Hanging filament included.
Beautiful craftsmanship and exquisite detail by
Professional Artists
This Collectible Was .............. $21.95

SALE - Now ...................$16.95