Hexagon Star Pewter Ornament
USA Made Hanging Pewter & Swarovski Suncatcher
JUST ONE LEFT!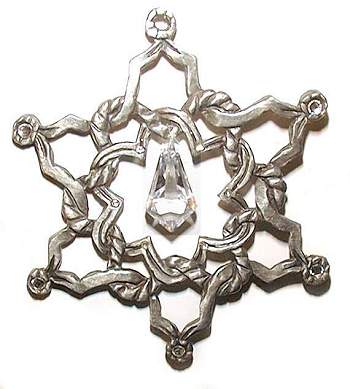 3 1/4" H by 3 1/4" W
Hanging Pewter Ornaments
Fine US Pewter and Swarovski Crystal Suncatcher
Lovely intertwined six-pointed Star of David, a symbol of spiritual devotion. Each point has a large Clear Swarovski faceted crystal and in the center dangles a beautiful Tear Drop crystal. The scene is the same on both sides. Hanging filament included.
Beautiful craftsmanship and exquisite detail by
Professional Artists
This Collectible Was .............. $21.95

SALE - Now ...................$16.95