Snowflake Pewter Ornament
USA Made Hanging Pewter & Swarovski Suncatcher
JUST TWO LEFT!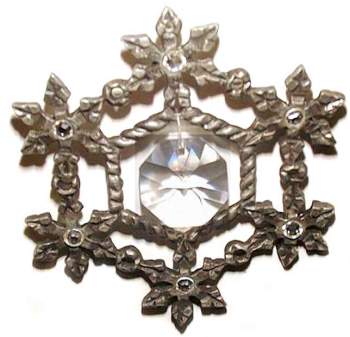 3 1/4" H by 3 1/4" W
Hanging Pewter Ornaments
Fine US Pewter and Swarovski Crystal Suncatcher
Star Snowflake
Each star point is centered with a large Clear Swarovski faceted crystal, another Swarovski faceted crystal dangling in the center radiates lovely rainbows. The artistic detailing has a slight gothic effect and is very dramatic. The scene is the same on both sides. Hanging filament included.
Beautiful craftsmanship and exquisite detail by
US artisans.
This Collectible Was .............. $29.95

SALE - Now ...................$18.95