Jade & Rhodonite Gem Tree - XLarge Mimosa
Award Winning Artist Creation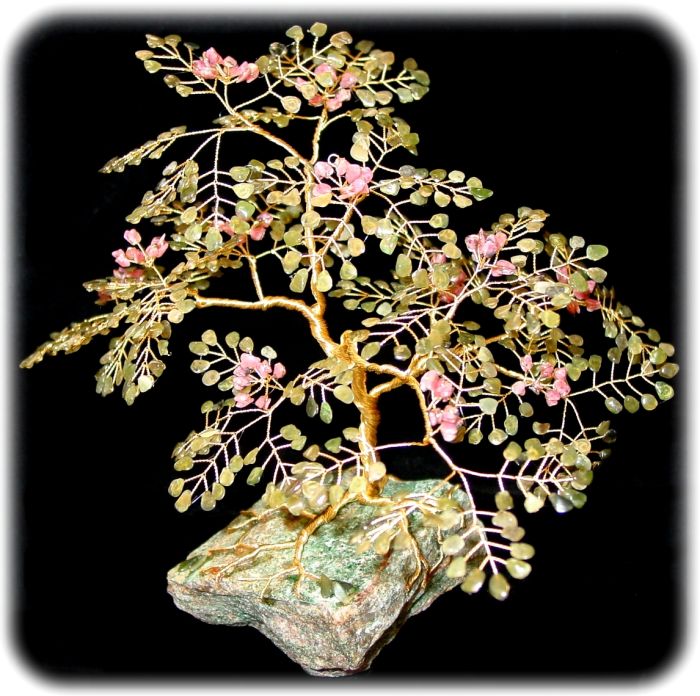 Jade & Rhodonite Gemstone Tree - XLarge Mimosa
Rough Green Aventurine Base
8" High x 6 1/2" Wide - 1 lb 5ozs Approx.
May Birthstone
A masterpiece for the ages! This 8" H x 8" W extra large Jade and Rhodonite Mimosa Gemstone Tree on a rough Green Aventurine base will be a conversation piece for years to come. An amazing work of art, this Mimosa Gem Tree has 72 branches with approximately 600 individual high quality, clear Jade and Pink Rhodonite polished stones. The branches are no tarnish gold tone metal wire and the large Green Aventurine base has acrylic pads for scratch protection.
Each piece is unique and handmade,
with slight variations!!
This Gem Tree Was .............. $680.00

SALE - Now ...................$429.00
Chinese Jade
May Birthstone
"Jade Blesses that Which it Touches"
"Jade is known as a DREAM STONE and a STONE OF FIDELITY, bringing realization to one's potential and devotion to one's purpose" *
That is the ancient Chinese belief. The Chinese were so fervent about Jade, which they considered a sacred stone, that they fashioned ritual implements and articles from it to enhance their worship and their fortune.

It is also revered by the ancient tribes of New Zealand as well as the Mayan Culture which viewed it as the "Sovereign of Harmony". It was used as a sacred stone, affording one access to the spiritual world. It helps to attune one to the needs of others and inspires wisdom during the assessment of problems.
*"Love is in the Earth" by Melody
Country of Origin: China also Canada, Middle East