Amethyst Gem Tree - X-Large Spruce
Award Winning Artist Creation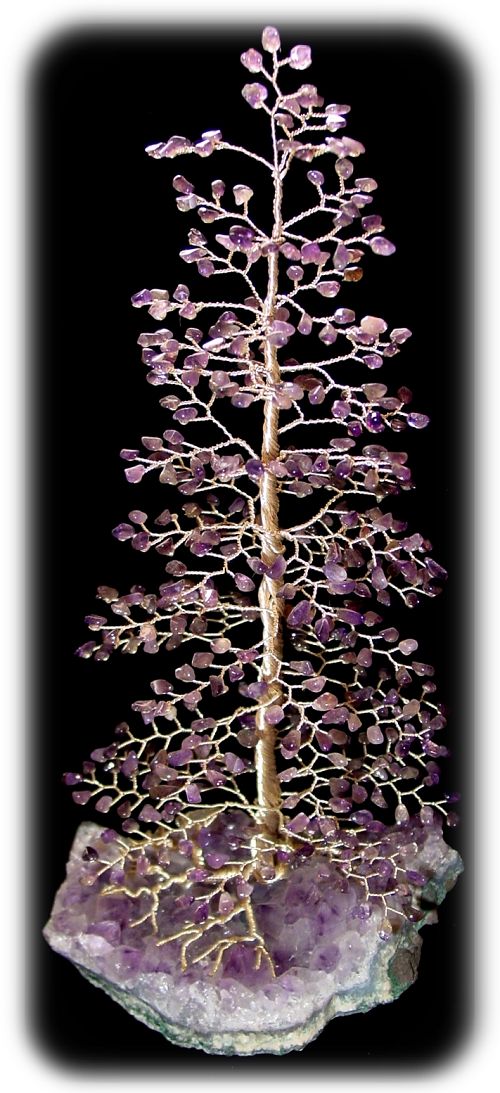 Amethyst Gemstone Tree - X-Large Spruce
Amethyst Crystal Cluster Base
13" High x 6" Wide - 1 lb 14ozs Approx.
February Birthstone
Exquisitely beautiful 13" H extra large Amethyst Gemstone Tree on a solid Amethyst Crystal Cluster base is a stunning work of art. These extra large size Spruce Gem Trees have 59 graduated branches with over 450 individual high quality, clear Amethyst polished stones. The branches are no tarnish silver tone metal wire and the large Amethyst Crystal Cluster base has acrylic pads for scratch protection.
Each piece is unique and handmade,
with slight variations!!
This Gem Tree Was .............. $650.00

SALE - Now ...................$399.00
Amethyst
February Birthstone
Amethyst is a stone of spirituality and contentment.
Stimulates the Third Eye Chakra

It is representative of the principle of complete metamorphosis. It bestows stability, strength, invigoration and peace.
From antiquity Amethyst has symbolized sobriety or self-mastery. Therefore it passes on the ability to release one's addictions, physical, emotional or otherwise.
It magnifies personal energies of love, forgiveness, healing by concentrating upon the stone.
Country of Origin: Brazil, India, Madagascar