Large Bonsai Citrine Gemstone Tree
On Amethyst Druze Crystal Cluster Base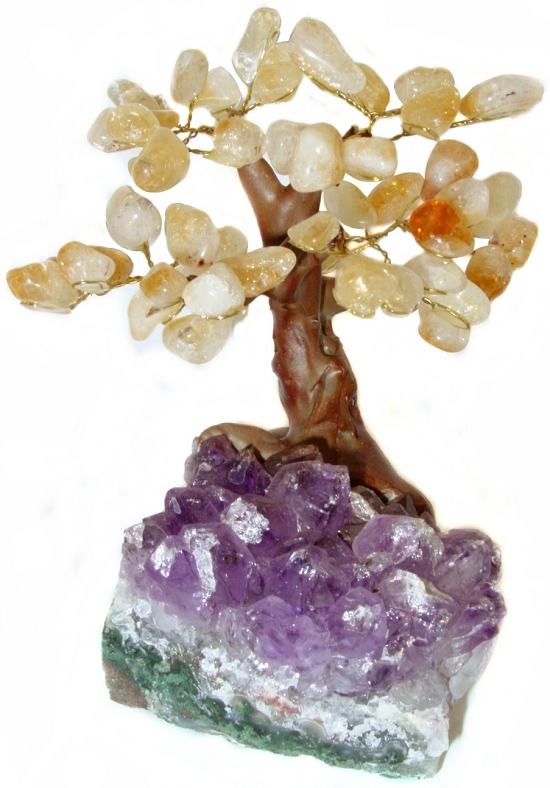 Large Bonsai Citrine Gem Tree
The Money Tree
8" H x 6" L x 4 1/2" W - 1lb 5ozs. Approx.
November Birthstone
Gorgeous hand made Bonsai Brazilian Citrine Trees. Citrine is one of only two stones on the planet which cannot hold negative energy, but transmutes and dissipates it. It is also the stone of the entrepreneur or merchant, Feng Shui Masters say Citrine assists in acquiring and maintaining wealth.

Each faux Bonsai Tree is set on a large Druze Amethyst Crystal Cluster Base with 18 brass wire branches that have three large polished gem stones on each branch, that is a total 54 Citrine polished 1/3" - 1/2" wide stones on each tree.
Each tree is unique and handmade,
with slight variations!!

Your Choice of:
Citrine, Amethyst, Hematite, Sodalite or Multi Gem Bonsai Tree

This Gem Tree Was .............. $49.95

SALE - Now ...................$36.95
Citrine
"Citrine does not hold negative energy , but transmutes and dissipates it."*
Citrine is one of only two stones on the planet which cannot hold negative energy, but transmutes and dissipates it.
It is also the stone of the entrepreneur or merchant, because placing a crystal or cluster in one's cash box produces more income and and assists in acquiring and maintaining wealth.*
*"Love is in the Earth" by Melody