"The Three Bastets" a
Gazing Ball Stand
Pewter by Artist Richard Pierce


3 1/2" High & 4" Wide Base
2 lbs. 6 1/2ozs. of the Finest Pewter & Austrian Crystal
"The Three Bastets"
The Egyptian Cat Goddess
Can hold 80mm to 150mm Spheres
Reverence for the Sacredness of cats originated in Ancient Egypt. Bastet, the Cat-mother of the city of Bubastis was the benevolent aspect of Goddess Hathor the Sphinx.
The cat was carved on Isis's holy sistrum and represented the Moon. The Egyptian word for Cat, MAU is clearly a Mother syllable. Festivals of Bastet were joyful celebrations of the bounties of Life and the fertility of the Mother, participation brought great good fortune.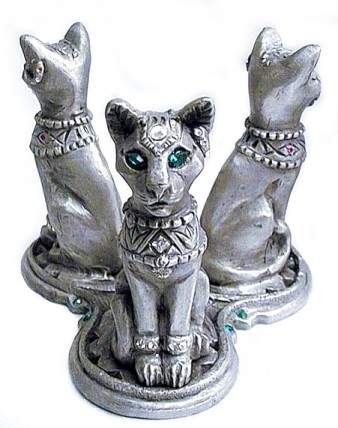 This mysterious and exotic piece evokes the wonder and awe of the Ancient Egyptians for the Sacred Cat. There are a total of 25 faceted Swarovski Crystals in Emerald, Ruby, Aurora Borealis and Crystal in each figure.

AB crystals adorn cuffs at her feet. Large Crystals are at the neck collar (with Ruby) and encircle an ear cuff. Finally there are startling almond shaped Emerald eyes and a large Rainbow crystal in the center of the brow. The base is fashioned in an art deco style and beautifully sets off the whole figure.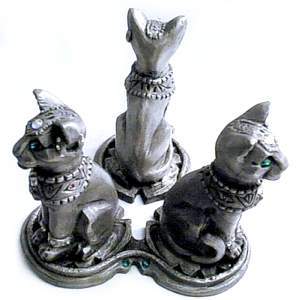 This is an outstanding decorative piece, not only for the beautiful
quartz spheres and crystal balls it displays with such mystique, but also
it gives Art Glass paperweights the distinction they deserve.
This Collectible Was ........... $44.95

SALE - Now ...................$37.95