50MM Rainbow Obsidian Sphere
With Walnut Oriental Stand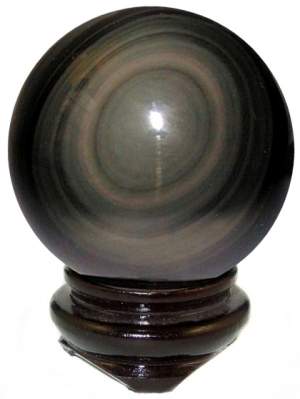 50mm AA Rainbow Obsidian Sphere
with Stand
Regular - 50mm or 2" Sphere - $26.95
AA Quality - 50mm or 2" Sphere - $29.95 - SOLD
Rainbow Obsidian is a classic gazing stone. Believed to bring Love and Light into one's life. What secrets will it reveal? Beautifully polished high shine 2" Rainbow Obsidian Spheres from Mexico. Each comes with a lovely Walnut Finish Oriental Stand.
Each piece is unique, with slight variations!!

This Collectible Was .............. $34.95

SALE - Now ...................$26.95
Rainbow Obsidian
"Rainbow Obsidian brings light and love to ones life, allowing for the recognition of the spiritual side of ones nature". *

Rainbow Obsidian has the same visionary qualities as Black Obsidian, except the emphasis is turned to the personal side with a focus on Love, Relationships and the inner spiritual landscape.
"It is a stone of pleasure, bringing gratification and enjoyment to ones life" *
*"Love is in the Earth" by Melody