50MM Black Obsidian Sphere
With Walnut Oriental Stand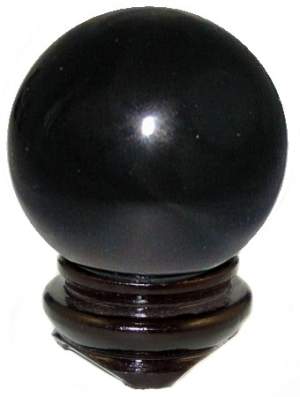 50mm Obsidian Sphere
with Stand
50mm or 2" Black Obsidian Sphere
Obsidian is a natural volcanic glass and comes in many colors. It has to be carved and polished like other minerals and crystals. Beautiful Black Obsidian from the volcanic bowels of Mother Earth, is a very mystical stone which has been used since ancient times in Shamanic healing rites. Like all black power stones, Obsidian has been used to banish grief and encourage happiness and good fortune. This sphere is of the finest Obsidian from Mexico and comes with a Walnut Finish Oriental Stand.
This Collectible Was .............. $29.95

SALE - Now ...................$24.95
Black Obsidian
Black Obsidian is a stone of healing and prophesy.

Black Obsidian is traditionally used for gazing, and insight into the future because it is a natural glass from the "Mother".

The intrinsic properties of the numerous forms of Obsidian produces a very stark and blunt vision of things as they are and things as they could be.
"Black obsidian is used in Shamanic ceremonies to aid the removal of disorder from the body...surrounding and transmuting it into white light." *
*"Love is in the Earth" by Melody

Country of Origin: Mexico, Indonesia, Worldwide