Rainbow Fluorite Gemstone Tree
w/ Amethyst Cluster Crystal Base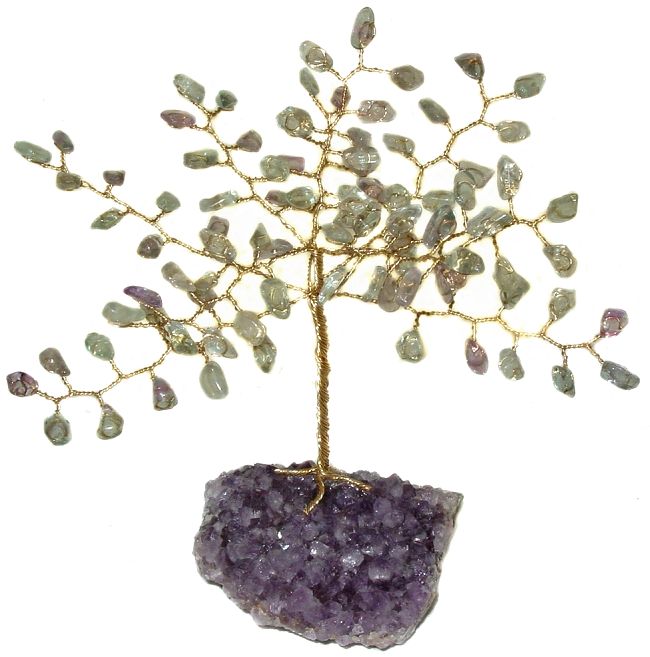 Medium Rainbow Fluorite Gem Tree
Druze Amethyst Crystal Cluster Base
6 1/2" High x 6" Wide - 1/2 lb Approx.
10 Branches with 80-100 stones
February Birthstone
High quality Clear Rainbow Fluorite Gem Tree on a solid Amethyst Druze Crystal Cluster base. Named for the Latin verb 'fluere' meaning 'to flow', Fluorite has a cleansing, fluid quality used by crystal masters to clear both physical and mental energies which aids regeneration and clarity of thought.

These US hand crafted Medium Gem Trees have 10 branches with
80-100 individual clear Rainbow Fluorite polished gemstones on each tree. The branches are no tarnish gold tone brass wire and the Amethyst Cluster Crystal bases have thick pads for scratch protection.
Each piece is unique and handmade,
with slight variations!!

This Gem Tree Was .............. $47.95

SALE - Now ...................$32.95
Rainbow Fluorite
February Birthstone
"It is excellent in helping one to understand the balance intrinsic in relationships"

"Can inspire the universal energies of the body, assisting in the attainment of the ultimate state of physical perfection .."*
It is a stone of discernment and aptitude. It plucks order from the heart of chaos. It provides a stabilizing energy, helping relationships and individuals flourish in a realm which is beneficial to both. It facilitates access to a limitless range of avenues for exploration.
*"Love is in the Earth" by Melody