Mother of Pearl Gem Tree $29.95
w/ Amethyst Crystal Cluster Base
Choose from 21 Gemstone Tree Varieties - USA Made!!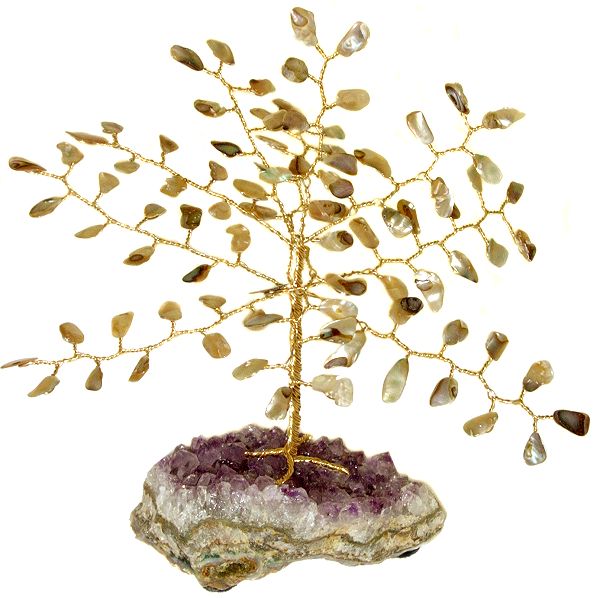 Medium Abalone/Mother of Pearl Gem Tree
Druze Amethyst Crystal Cluster Base
6 1/2" High x 6" Wide - 1/2 lb Approx.
Exquisite Custom Gem Trees on a solid Amethyst Druze Crystal Cluster base. These USA custom made Medium Gem Trees have 10 branches with approximately 80-100 individual polished gem stones on each tree. The branches are no tarnish gold tone metal wire and the Amethyst Druze bases have felt pads for scratch protection.

The stone energies naturally blend into the universal "Tree of Life" symbolism and help to ground those who meditate on it.
Each piece is unique and handmade,
with slight variations!!
Choose from 21 Gemstone Varieties $29.95
Mother of Pearl, Amazonite, Amethyst, Apache Tears, Carnelian, Blue or Red Goldstone, Blue Howlite, White Howlite, Fancy Jasper, Ocean Jasper, Red Jasper, Black Obsidian, Snowflake Obsidian, Petrified Wood, Quartz Crystal, Green Quartz, Pink Rhodonite, Rose Quartz, Sodalite or Unakite - $29.95 Each
This Gem Tree Was .............. $39.95

SALE - Now ...................$29.95