Princess
Gold-Plated & Pewter Egg or Ball Stands
For 1 1/4" or 30mm to 2 1/2" or 60mm Spheres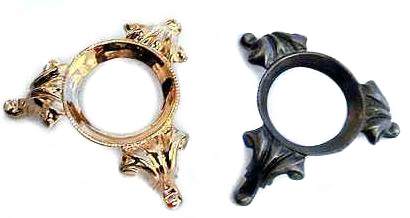 Princess Stand
2" Wide x 3/4" High
1 1/4" Open Diameter
These beautiful little Princess Stands are available in pewter or Gold-Plated finish. They are very useful as sphere or egg stands. They maybe small but they can hold small marble sized spheres or go all the way up to 60mm or about 2 1/2" diameter spheres.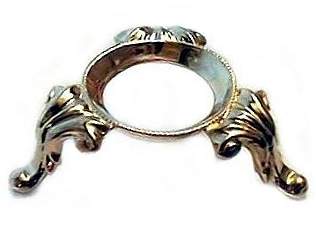 See the detail of the French Classic scroll work legs.
Each Leg 3/4" wide.
This 50mm Alexandrite Crystal Gazing Ball (2") fits
beautifully on this little stand. Spruce up your Egg and
Sphere collection inexpensively with these dainty stands!!
Both Pewter or Gold-Plated Stands are one Great Price!!
This Collectible Was .............. $7.95 Each

SALE - Now ...................$4.50 Each