50MM AA Rainbow Obsidian Egg
With Walnut Oriental Stand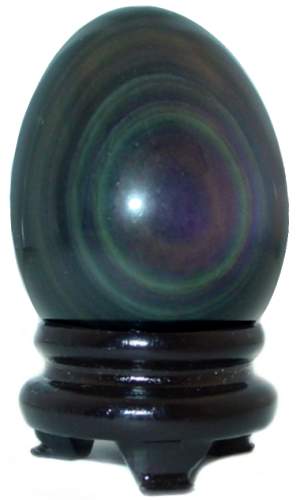 AA Rainbow Obsidian Egg with Stand
2" L by 1 1/2"W Egg
Rainbow Obsidian is a classic gazing stone. Believed to bring Love and Light into one's life. What secrets will it reveal? Beautifully polished, high shine, AA grade Rainbow Obsidian eggs from Mexico. The Walnut Finish Oriental Stand is included.
Each piece is unique, with slight variations!!

This Gem Egg Was .............. $32.95

SALE - Now ...................$22.95
RAi nb Ow O bs id ian
"Rainbow Obsidian brings light and love to ones life, allowing for the recognition of the spiritual side of ones nature". *

Rainbow Obsidian has the same visionary qualities as Black Obsidian, except the emphasis is turned to the personal side with a focus on Love, Relationships and the inner spiritual landscape.
"It is a stone of pleasure, bringing gratification and enjoyment to ones life" *
*"Love is in the Earth" by Melody