Natural Agate Bookends
2lbs - 4lbs Sizes - Rough & Polished Stone Finish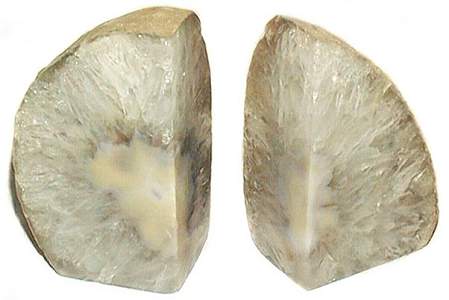 Natural Agate Bookends
3 Sizes by Weight - Dimensions Vary
2lbs+ Small 4" H to 4lbs+ 6"
Brazilian Agate Geodes are sliced and polished to create natural bookends that show off the beauty of both the rough and polished stone. Natural Agate bookends have two polished sides for each bookend and a smooth cut base. Each pair is a unique size and weighs 2lbs or more.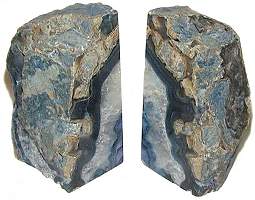 Sample Back View
Each pair is unique, with slight variations!!

This Item Was .............. $49.95

SALE - Now ...................$24.95

Small 2lbs or more $24.95
Medium 3lbs or more $36.95
Large 4 lbs or more $45.95
X7-L 7 lbs or more $79.95 - SOLD
X10-L 10 lbs or more $99.95 - SOLD

Agate
"Agate is said to have been one of the stones in the breastplate of the High Priest in ancient texts"*
Agate stimulates analytical abilities and mental precision. It has been reported to strengthen the sight, diminish thirst and promote marital fidelity. It enhances perceptiveness and awakens inherent talents and adroitness.*
*"Love is in the Earth" by Melody