Pyramid Kaleidoscope Light Base
Rotary Light Base Holds Spheres!

Has 2 Settings
1. Light Only
2. Light & Rotating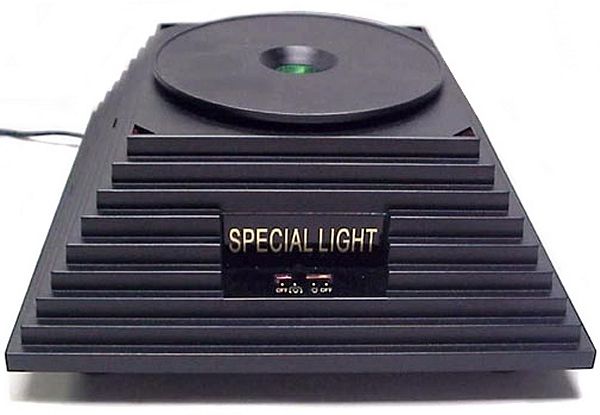 Pyramid
Kaleidoscope Rotating Light Stand
#LED-96 - Holds 3lbs in Rotary Mode
8 1/4" x 8 1/4" Base x 3 3/4" H
Turntable 5" W
For the Modernist look, this upscale rotary light stand fills the bill! A stunning black finish base rises in ziggurat form to the top, where your most treasured sculpture, art or glass piece gets all the attention!

The stand includes a removable revolving 5" wide turntable with beautiful kaleidoscope colors flowing from below that change slowly. The center opening can hold round crystal balls or eggs securely.

This gallery quality light base has 2 settings with "Light On Only" or "Light On Rotating". Gift boxed with a 12 volt AC adapter and 12W halogen light included. The 12W halogen light bulb can be replaced.
Can hold 50mm to 175mm Spheres
2" to 7" Diameter

This Collectible Was ........... $89.95

SALE - Now ...................$44.95