a


Atlantis Peacock Obelisk Paperweight
BACK IN STOCK!!


Atlantis Peacock Obelisk
Iridescent Crystal Paperweight
3 1/2" H x 1 3/8" Base

The Atlantis Obelisk is a sleek, slant faceted cylinder obelisk. In Peacock iridescent colors that offer subtle or intense hues depending on the angle of view. A great gift for the sophisticate.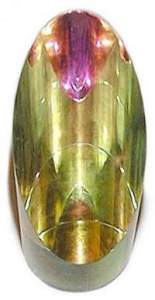 This Collectible Was .............. $39.95

SALE - Now ...................$27.95