50MM Snowflake Obsidian Sphere
With Walnut Oriental Stand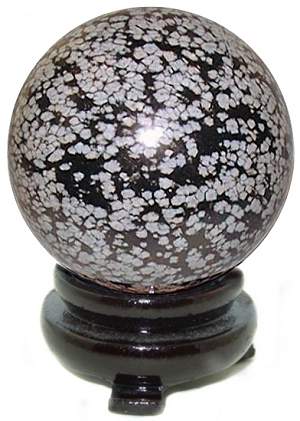 50mm Snowflake Obsidian Sphere
with Stand
50mm or 2" Sphere
Obsidian takes on Snowflakes when a white mineral Phenocryst is present. It is a stone of purity, bringing balance to body, mind and soul. Beautifully polished 2" Snowflake Obsidian Spheres from Mexico. The Walnut Finish Oriental Stand is included.
Each piece is unique, with slight variations!!

This Collectible Was .............. $34.95

SALE - Now ...................$22.95
Snowflake Obsidian
"Snowflake Obsidian allows one to recognize unnecessary patterns which remain in ones life and to redesign ones thought patterns to provide relief from undesired conditions". *

Snowflake Obsidian has the same visionary qualities as Black Obsidian, except this stone facilitates the path to a state of total serenity and meditation.
"It is a stone of purity, bringing both purity and balance to the body, mind and spirit." *
*"Love is in the Earth" by Melody