50mm Labradorite Sphere
With Walnut Oriental Stand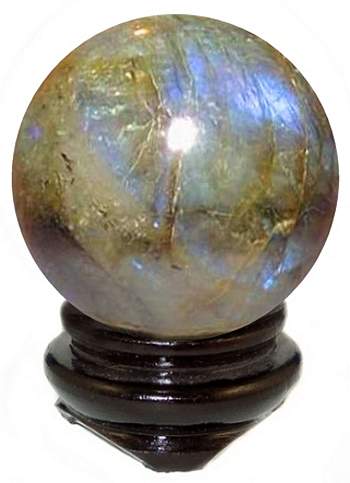 Fiery 50mm Labradorite Sphere
with Stand
50mm or 2" Sphere
Lots of peacock colored fire in these beautiful Feldspar polished spheres. Labradorite facilitates change in trying circumstances, plumbing the strengths of the inner self.
Lovely Brass Embossed Stand is included.
Each piece is unique, with slight variations!!

This Collectible Was .............. $39.95

SALE - Now ...................$29.95
Labradorite

This stone represents the spiritual
sides of the sun and the moon.

Labradorite is believed to grant it's possessor intellectual clarity and increased patience, which in turn allows the seeker to reach an inner peace. This mysteriously shiny gemstone is said to help one recognize the crucial "Right Time."
It's name is due to the main source for the mineral, Labrador, Canada. It is known by it's fiery iridescence sometimes referred to as it's Labradorescence.