32-45MM "A" Crystal Quartz Spheres
Wood Sphere Stand Included
JUST A FEW LEFT!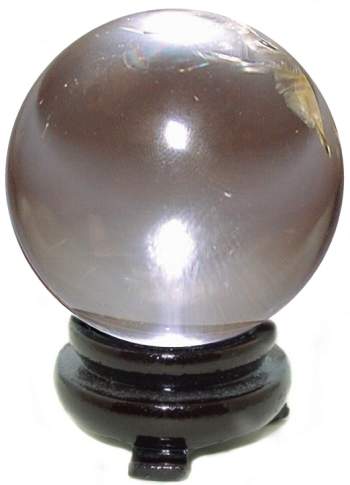 32-45mm Crystal Quartz Spheres
with Stand
We have a limited quantity of extra Clear A Crystal Quartz spheres in stock. Quartz is known as a healing crystal that intensifies the life force or Chi energy, which clears negativity and past wounds thereby refreshing the mind, emotions, and physical body. Each beautiful Madagascar quartz sphere comes with a Walnut Finish Wood Ball Stand.

Each piece is unique, with slight variations!!

This Collectible Was .............. $39.95

SALE - 32mm Now ...................$25.95
32mm or 1 3/8" Sphere...$25.95
35mm or 1 1/3" Sphere...$29.95
40mm or 1 1/2" Sphere...$37.95
45mm or 1 3/4" Sphere...$44.95
CRYSTAL QUARTZ

Clears past wounds, leaving the bright hope of the moment.
"Quartz attracts life force from the unlimited source of life at the core of your being and brings it into the physical world. As this life force flows through you, it nourishes and balances your mind, emotions, and physical body and corrects color-ray imbalances within them. Because this stream of vital energy touches every facet of your being, all aspects of your life improve. *
*"Love is in the Earth" by Melody