Blue Lace Agate Gemstone Tree
w/ Amethyst Cluster Crystal Base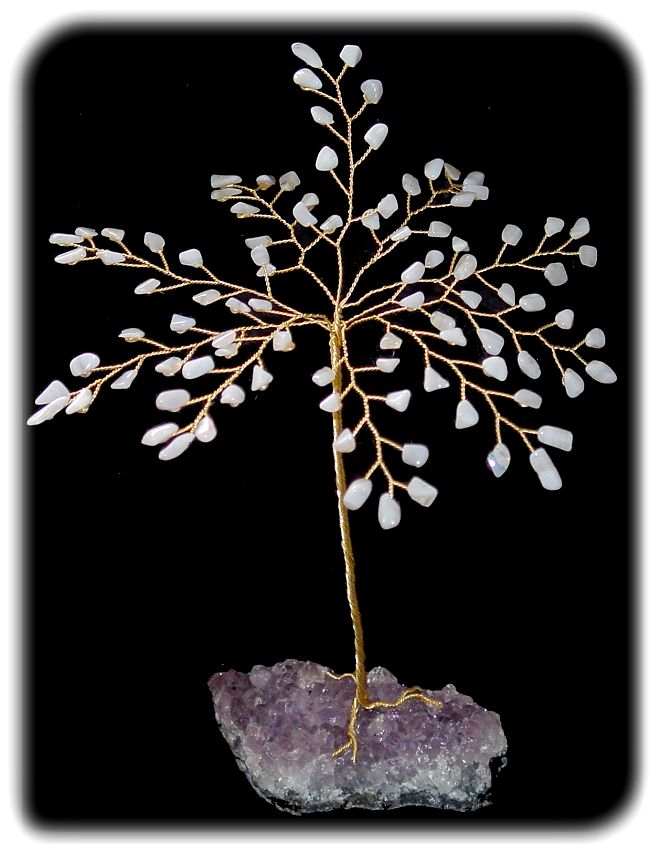 Medium Blue Lace Agate Gem Tree
Druze Amethyst Crystal Cluster Base
6 1/2" High x 6" Wide - 1/2 lb Approx.
10 Branches with 80-100 stones
March Birthstone

AA Blue Lace Agate
Gem Tree on a solid Amethyst Druze Crystal Cluster base. True baby blue hued Agate stones display a blue and white intricate lace pattern. In the Bible Blue Agate was part of the breastplate of the high priest and contains the quality of flight, air, movement and grace all with an understated gentleness.


These US hand crafted Medium Gem Trees have 10 branches with
80-100 individual Bloodstone polished gemstones on each tree. The branches are no tarnish gold tone brass wire and the Amethyst Cluster Crystal bases have thick pads for scratch protection.
Each piece is unique and handmade,
with slight variations!!

This Gem Tree Was .............. $47.95

SALE - Now ...................$32.95
Agate
"Agate is said to have been one of the stones in the breastplate of the High Priest in ancient texts"*

Agate stimulates analytical abilities and mental precision. It has been reported to strengthen the sight, diminish thirst and promote marital fidelity. It enhances perceptiveness and awakens inherent talents and adroitness.*
*"Love is in the Earth" by Melody