65mm -75mm Sheen Obsidian Egg
3 Sizes Available - with Wood Stand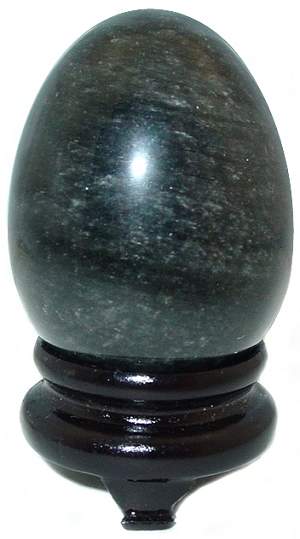 Sheen Obsidian Egg with Stand
2 3/4" L x 1 3/4" W Egg
Sheen Obsidian is the most captivating of gazing stones, because of the sensational shine. This natural volcanic glass has been used by shamans to reveal secrets for centuries. Sheen Obsidian eggs from Mexico. The Walnut Finish Oriental Stand is included.
Each piece is unique, with slight variations!!

This Gem Egg Was .............. $36.95

SALE - Now ...................$24.95

65mm or 2 3/4" L - $24.95
70mm or 2 7/8" L - $27.95
75mm or 3" L - $34.95 - SOLD
Sheen Obsidian
"Sheen Obsidian is also used for "gazing" and acts to provide information concerning the root of a problem or situation". *

Sheen Obsidian has the same visionary qualities as Black Obsidian, except this stone helps peel away the layers surrounding an issue and lays the problem bare.
Sheen Obsidian leads to the center allowing the inner self to surface and flourish with its childlike simplicity, beauty and enthusiasm.
*"Love is in the Earth" by Melody