Quartz Candle Holder
Rough Stone Finish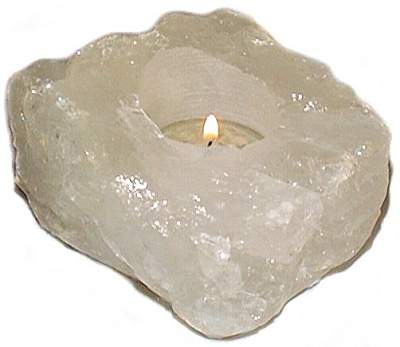 Quartz Crystal Candle Holder
3" W x 2 1/2" H Approx Size
1lbs 8ozs or more - Candle Included

Rough cut Brazilian Quartz Crystal candle holder with a smooth drilled hole 1 5/8" W for a candle or tea light provides exotic soft glow. The base has a felt lining so this accessory can be used without fear of scuffing. Each piece is a unique size and weighs 1 1/2lbs or more.
Each piece is unique, with slight variations!!

This Item Was .............. $36.95

SALE - Now ...................$24.95
Quartz Crystal
"Clears past wounds, leaving the bright hope of the moment"

In Oriental philosophy the unlimited Chi energy is the universal source of life force which surrounds and flows through all living creatures. Quartz Crystal is reputed to aid and increase the flow of Chi energy from the unseen core of being into the day to day physical world.

As this life force flows more freely, it nourishes and balances the mind, emotions and physical body and corrects color-ray imbalances within them. Since this stream of vital energy touches every facet of being, all aspects of life improve.
*"Love is in the Earth" by Melody