3 1/4" Large Nephrite Jade Turtles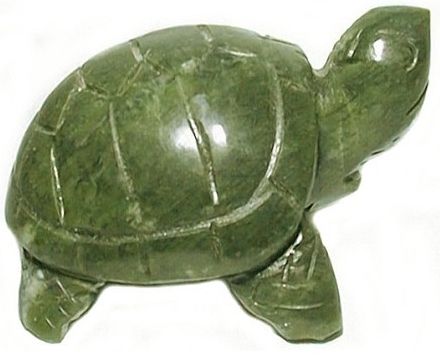 Large Green Nephrite Jade Turtle Carvings
3 1/4" L x 2" W x 1 3/4" H
Large Turtle carvings in precious Chinese Nephrite Jade have medium to dark green hues. Jade was considered a magical stone by the Mayans, thought to protect and unite relationships, it has been treasured as a "Bringer of Good Fortune" for centuries. The turtle is an ancient Feng Shui power symbol attracting longevity, wisdom and good luck.
Each piece is unique, with slight variations!!

This Carving Was .............. $34.95

This Carving Now ........... $22.95

Chinese Jade
"Jade Blesses that Which it Touches"
"Jade is known as a DREAM STONE and a STONE OF FIDELITY, bringing realization to one's potential and devotion to one's purpose" *
That is the ancient Chinese belief. the Chinese were so fervent about Jade, which they considered a sacred mineral, that they fashioned ritual implements and articles from it to enhance their worship and their fortune.

It is also revered by the ancient tribes of New Zealand as well as the Mayan Culture which viewed it as the "Sovereign of Harmony". It was used as a sacred stone, affording one access to the spiritual world. It helps to attune one to the needs of others and inspires wisdom during the assessment of problems.
Aries & Gemini
*"Love is in the Earth" by Melody