a


Pyramid in Pyramid
3 Sizes 2" -3 1/3" Wide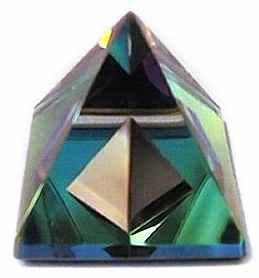 Pyramid in Pyramid
Peacock Crystal Paperweight
2 3/8" L by 2" Base
Delicate silver pyramid sits within this lovely Austrian Style Peacock Crystal pyramid. A conversation piece of optical illusion. Gorgeous pink, green and blue peacock colors.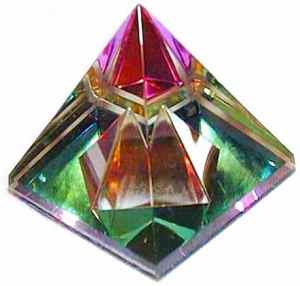 Dazzling peacock rainbow colors leap out at you from every angle.
It's impossible to show the variety of intense colors and the different
geometric views you get with this unusual piece.
50mm Large: 2 3/8" H x 2" Base $21.95
60mm X-Large: 2 1/2" H x 2 3/8" Base $26.95
80mm Jumbo: 3 1/3" H x 3 1/3" Base $32.95

This Collectible Was .............. $29.95
SALE - Now ...................$21.95