"Unicorn Heads"
Gazing Ball Stand
Retired Tudor Mint Edition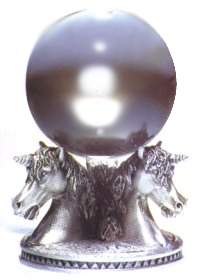 2 1/4" High by 3" Wide
1lb. of the Finest British Pewter

Can hold 30mm to 100mm Spheres
Seen here with a 2 1/2" or 60mm Classic Crystal Gazing Ball,
which is sold separately.
The mythical Unicorn stand is exquisitely sculpted in pewter by British craftsmen from the world famous Tudor Mint. The base has magical runic markings. It is numbered, signed by the artist and has the Tudor Mint stamp. This is a retired piece and no longer available.

Gift Boxed
Sorry, new retired pieces coming soon!
This Collectible Was .............. $54.95

SALE - Now ...................$39.95