Star Angel
Pewter Angel Figurine w/ Swarovski Crystals
Made in the USA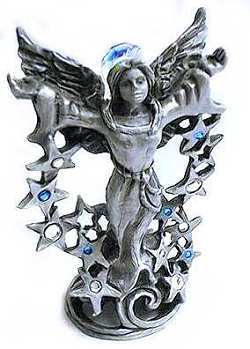 3 1/2" H by 2 1/4" W , 1 1/2" Base,
6.5 ounces of the Finest Pewter and Austrian Crystal.
"STAR ANGEL"
"Fantasy Collection"

This inspirational angel seems to be soaring to the skies with jeweled stars surrounding her. All but 2 of the large falling stars have faceted Swarovski Crystals in Aquamarine and Crystal colors to simulate the skies. She has a very large round Crystal Halo at her head.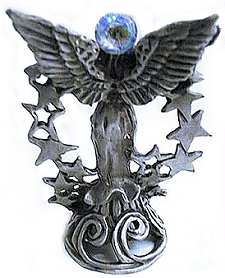 She stands atop an open swirled base which adds to the sense of movement. This is a favorite piece, friends and loved ones will try to talk you out of this one!! Beware, you might have to buy two.
Beautiful craftsmanship and exquisite detail,
by Professional Artists
Add this Lovely Angel to your Collection!!
This Collectible Was .............. $29.95

SALE - Now ...................$22.95