Pewter Glitter Fairy
Pewter Fairy Figurine w/ Swarovski Crystals
Made in the USA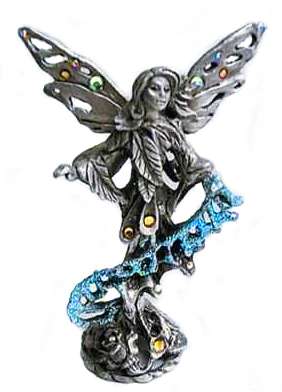 4 3/4" H x 2 3/4" W - 1 1/2" Base
6 ozs. of the finest Pewter & Swarovski Crystal
GLITTER FAIRY
Fantasy Pewter Collection
Delicate leaf clad Fairy scattering sparkling blue fairy dust around her. She has 17 large and small faceted Swarovski crystals in Aurora Borealis, Peridot, Topaz & Crystal colors. Her wings have 8 crystal including 2 large Peridot crystals. The rest are scattered on her figure and in the base.
The dazzling blue glitter makes her an eye catcher,
everyone will notice this beauty!!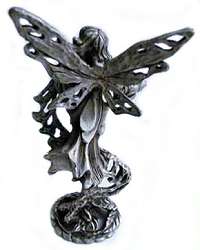 Beautiful craftsmanship and exquisite detail
by Sunglo.
JUST ONE LEFT!
This Collectible Was .............. $37.95

SALE - Now ...................$27.95