a


Set of 6 Happy Buddha Statues $5.95
In Gold, Rosewood, Jade Green, Gold/Rosewood & Multicolor Finish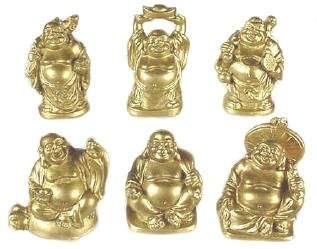 Gold Finish Happy Buddha's Set
Feng Shui Sacred Objects
2" H x 1 1/2" W - Each Approx.

This Collectible Was .............. $12.95
SALE - Now ...................$5.95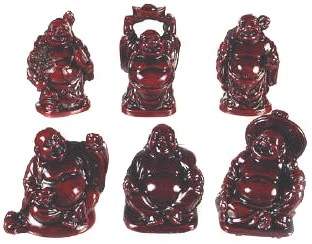 Rosewood Finish Happy Buddha's Set
Feng Shui Sacred Objects
2" H x 1 1/2" W - Each Approx.

This Collectible Was .............. $12.95
SALE - Now ...................$5.95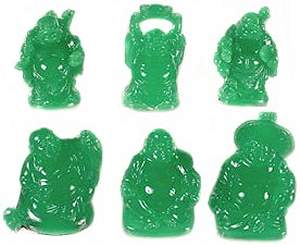 Faux Jade Happy Buddha's Set
Feng Shui Sacred Objects
2" H x 1 1/2" W - Each Approx.

A set of 6 Happy Buddha's in your choice of 5 polished finishes. There is one for Safe Travel, Prosperity, Love, Spiritual Journey, Happy Home, and Long Life. High gloss faux gold finish statues of solid stone resin.
Available in Gold, Rosewood, Jade Green,
TuTone Gold or Multicolor.
This Collectible Was .............. $12.95
SALE - Now ...................$5.95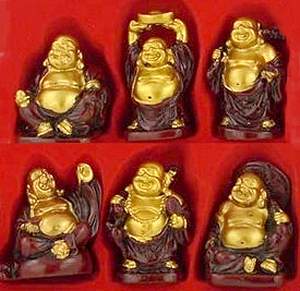 Two Tone Red & Gold Happy Buddha's Set
Feng Shui Sacred Objects
2" H x 1 1/2" W - Each Approx.

This Collectible Was .............. $12.95
SALE - Now ...................$5.95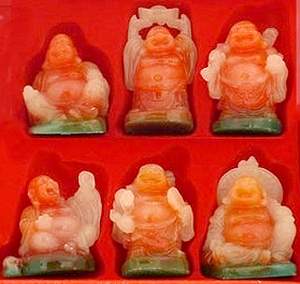 Multicolor Happy Buddha's Set
Feng Shui Sacred Objects
2" H x 1 1/2" W - Each Approx.

This Collectible Was .............. $12.95
SALE - Now ...................$5.95