2" Value Selenite Sphere $12.95
With Walnut Oriental Stand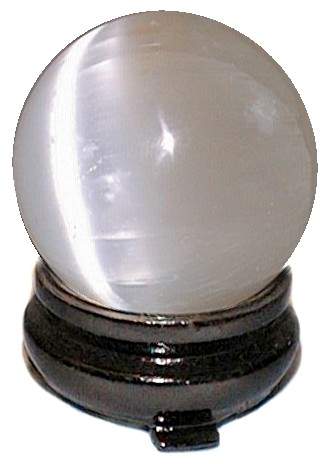 50-55mm Selenite Cat's Eye Sphere
with Stand
Value 50-55mm or 2 -21/4" Sphere - $12.95
AA 60mm or 2 1/2" Sphere - $24.95

Click here for large AA Selenite Spheres.
Special purchase, value grade Selenite 50-55mm spheres from Morocco are not evenly round. Selenite grows in long "cat's eye" colorless translucent pearl white crystals or stone rosettes and is a form of Alabaster. It is said to be a powerful cleanser of negative energies, even clearing quartz crystals. Selenite spheres have the appearance of a full moon and is a natural cat's eye stone as opposed to the man-made fiber optic varieties. The Oriental Wood Stand is included.
Each piece is unique, with slight variations!!


This Collectible Was .............. $18.95

SALE -
Now ...................$12.95
Value 50-55mm or 2 -21/4" Sphere - $12.95
AA 60mm or 2 1/2" Sphere - $24.95