55mm+ Purple Fluorite Spheres
Chinese AA Fluorite
a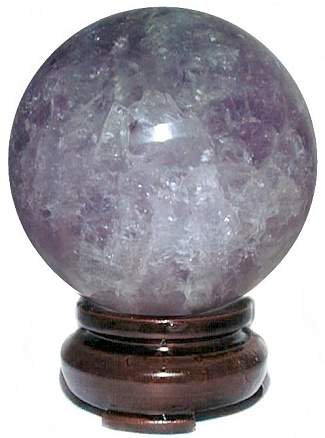 55mm+ AA Purple Ice Fluorite Sphere
55mm or 2 1/4" Sphere
Unusual Purple Ice AA Chinese Fluorite 55mm+ Spheres have translucent honeycomb like crystals. Highly polished and good color spheres. Fluorite plucks order from the heart of chaos, it provides a stabilizing energy which helps relationships and individuals to flourish. The Oriental Rosewood Stand is sold separately.
55mm or 2 1/4" Sphere - $44.95
60mm or 2 1/2" Sphere - $59.95
This Sphere Was .............. $59.95

SALE - Now ...................$44.95
Crystal Ball Stands
Fluorite
"It is excellent in helping one to understand the balance intrinsic in relationships"


"Can inspire the universal energies of the body, assisting in the attainment of the ultimate state of physical perfection .."*
It is a stone of discernment and aptitude. It plucks order from the heart of chaos. It provides a stabilizing energy, helping relationships and individuals flourish in a realm which is beneficial to both. It facilitates access to a limitless range of avenues for exploration.
*"Love is in the Earth" by Melody