Garnet Gemstone Tree - 300 Stones
Choose from 5 Rare Gemstones $36.95
Amethyst, Emerald, Garnet, Lapis or Quartz.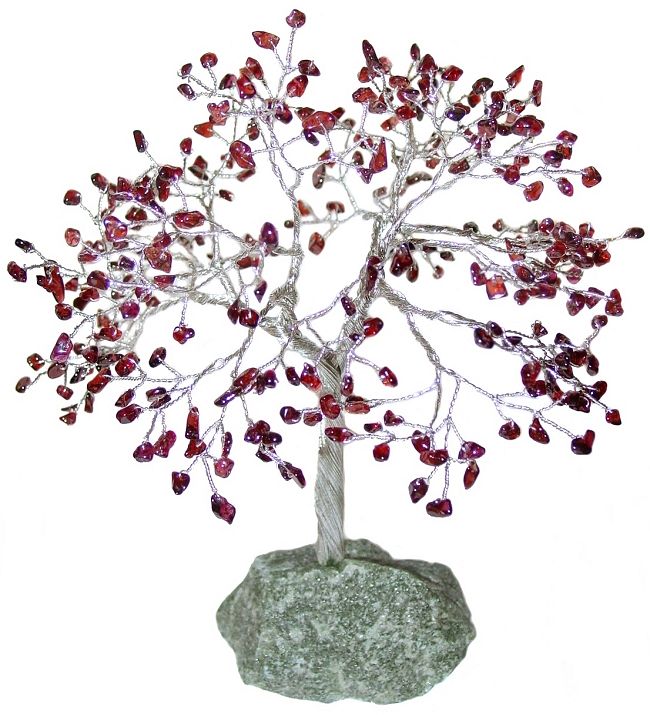 Garnet Gem Tree - 300 Stones
Garnet, Amethyst, Emerald, Lapis or Clear Quartz
Green Quartz Crystal Base
60 Branches with 280-300 stones
7 1/2" - 8" High x 7" Wide

January Birthstone
Precious India Red Garnet Gem Tree on a natural Green Quartz base. Garnet, used by Mayans, African Shaman and present day Crystal Masters, is considered a powerful "Sacred Stone", believed to extract negative energies on all levels and warm the heart.


These hand crafted Gem Trees have 60 no tarnish silver tone metal branches with approximately 280-300 high quality, Garnet polished stones. Natural rock base is Green Quartz.
Each piece is unique and handmade,
with slight variations!
Choose from 5 Rare Gemstones $36.95
Garnet, Amethyst, Emerald, Lapis or Clear Quartz in Stock
This Gem Tree Was .............. $56.95

SALE - Now ...................$36.95