Green Zoisite Egg
With Walnut Oriental Stand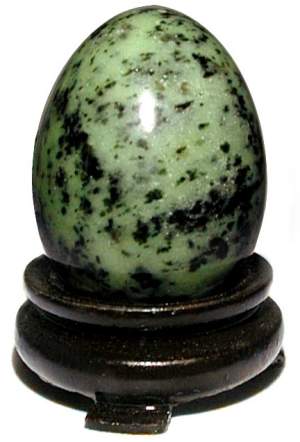 Green Zoisite Egg with Stand
45mm or 1 3/4 " L x 1 1/2"W
JUST TWO LEFT!
Vivid Green Zoisite gem eggs. Zoisite is an Epidote silicate mineral and also appears as the precious Tanzanite. Green Zoisite is very popular in jewelry and precious carvings. It has a beautiful semi-translucent, smooth polish and truly captures your attention. Each Green Zoisite Egg comes with a Walnut Finish Oriental Stand.
Each piece is unique, with slight variations!!

This Gem Egg Was .............. $39.95

SALE - Now ...................$24.95