Quartz Crystal Gem Tree $29.95
w/ Quartz Crystal Cluster Base
US Made Custom Gem Tree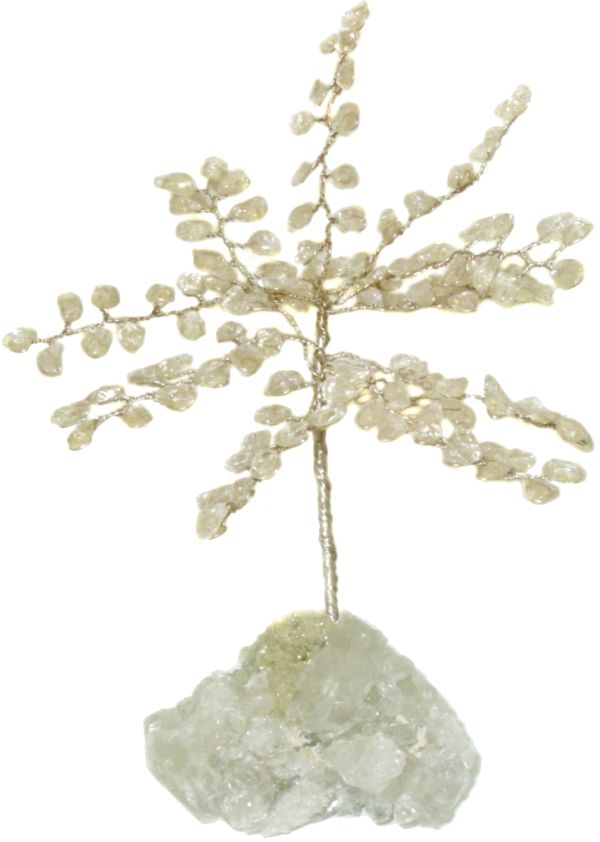 Medium Brazil Quartz Gem Tree
Druze Amethyst Crystal Cluster Base
6 1/2" High x 6" Wide - 1/2 lb Approx.
April Birthstone
Beautiful Quartz Crystal Medium Gem Tree on a solid Quartz Crystal Cluster base. These USA custom made Medium Gem Trees have 10 branches with approximately 80-100 individual Quartz Crystal polished stones on each medium tree. The branches are no tarnish gold or silver tone metal wire and the Quartz Crystal Cluster base has round felt pads for scratch protection.

Quartz magnifies the personal life force at the core of being and enhances its flow, nourishing the mind, emotions and physical body.
Each piece is unique and handmade,
with slight variations!!
This Gem Tree Was .............. $39.95

SALE - Now ...................$29.95
Crystal Quartz
April Birthstone
"Clears past wounds, leaving the bright hope of the moment." *

In Oriental philosophy the unlimited Chi energy is the universal source of life force which surrounds and flows through all living creatures. Quartz Crystal is reputed to aid and increase the flow of Chi energy from the unseen core of being into the day to day physical world.

As this life force flows more freely, it nourishes and balances the mind, emotions and physical body and corrects color-ray imbalances within them. Since this stream of vital energy touches every facet of being, all aspects of life improve.<
*"Love is in the Earth" by Melody