Aquamarine Gem Tree $32.95
w/ Amethyst Crystal Cluster Base
Choose from 18 Premium Gemstone Varieties - USA Made!!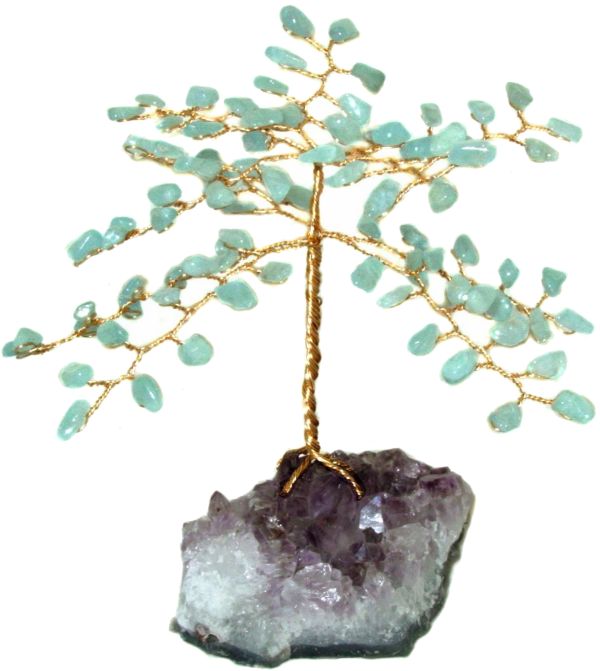 Medium Aquamarine Gem Tree
Druze Amethyst Crystal Cluster Base
6 1/2" High x 6" Wide - 1/2 lb Approx.
March Birthstone
Exquisite Custom Premium Gem Trees on a solid Amethyst Druze Crystal Cluster base. These USA custom made Medium Gem Trees have 10 branches with approximately 80-100 individual polished gem stones on each tree. The branches are no tarnish gold tone metal wire and the Amethyst Druze bases have felt pads for scratch protection.

Aquamarine is stone of courage and accelerates the intellectual and reasoning processes leading to better assimilation of the knowledge sought. The stone energies naturally blend into the universal "Tree of Life" symbolism and help to ground those who meditate on it.
Each piece is unique and handmade,
with slight variations!!
Choose from 15 Premium Gemstones $32.95
Aquamarine, Blue Lace Agate, Bloodstone, *New* Citrine,
Fire Quartz, Rainbow Fluorite, Labradorite, Lapis, Lepidolite, Moonstone, Peridot, Sunstone, Gold, Blue or Red Tiger Eye
$32.95 Each
This Gem Tree Was .............. $47.95

SALE - Now ...................$32.95
Aquamarine
March Birthstone
"A Stone of Courage"
Aquamarine is a variety of Beryl, also known as Emerald when it a appears as green crystals. It accelerates the intellectual and reasoning processes leading to better assimilation of the knowledge sought.

It enhances courage by increasing preparedness and taking a more intellectual approach to physical challenges as opposed to brute force. Warriors took this talisman into battle with them for protection and quicker, smarter responses to the threats at hand.
*"Love is in the Earth" by Melody