Tiger Eye Rabbit Carving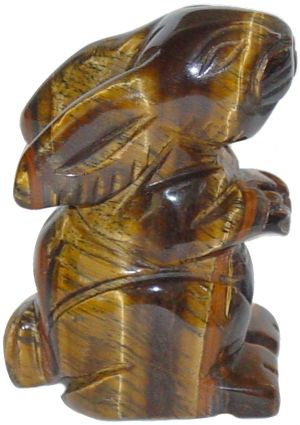 Tiger Eye Rabbit Carving
2 1/4" H x 1" W x 1 3/4" D
Large Tiger Eye Bunny Rabbit carving, full of golden chatoyancy and deep shine. High quality, high polish, iridescent Tiger Eye energizes the body and focuses the will.
Each piece is unique, with slight variations!!

This Carving Was .............. $29.95

This Carving Now ........... $21.95
Tiger Eye
Tiger Eye is a stone which aggressively focuses energy toward fulfilling heartfelt dreams.

"This mineral brings together the vibrations of Sand and Sunlight, synthesizing the energies of Sun and Earth."
This stone harnesses the forceful, solar-charged earthy vigor which is the hallmark of the enthusiasm and love of life exhibited by male adolescence. If you need enthusiasm and a release of introversion, this aggressive Yang stone can help release inhibition while remaining balanced or grounded with the Yin (sand/earth) energy.
It magnifies personal energies of desire, enthusiasm, vigor and action.
CAPRICORN